A solo Caribbean vacation. An unexpected visitor. And a second chance at romance for the holidays!
Holiday Novella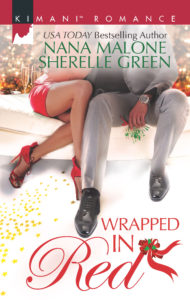 2 books in 1!!
'Tis the season for finding passion and rediscovering love… 
White Hot Holiday by Sherelle Green
A solo Caribbean vacation is college professor Sage Langley's perfect escape from Christmas and all its merriment. But she has unexpected and thrilling company at Grayson Ellington's luxurious vacation home: the sexy attorney himself! And her brother's best friend—who has desired and longed for Sage for years—has fantasies and plans for a red-hot romance to chase away her winter doldrums.
Mistletoe Mantra by Nana Malone
Returning to her Virginia hometown where her fiancé dumped her—years earlier on Christmas Eve—is making Nomi Adams croon the holiday blues. She needs to find the reclusive photographer who can advance her magazine career. However, Lincoln Porter's on his own rescue mission this yuletide. Because during this season of love and renewal, Faith, Virginia, looks to be a place for second chances…